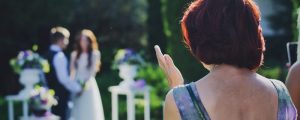 Your wedding day is one of the most important days in your. It's a day to be savored and enjoyed, not one filled with worry and frustration.
At FLBusCharter.com, we know that the key to a successful wedding day so choosing vendors that will offer solutions, not cause more problems. That's why so many couples are choosing us to transport their wedding parties and even their guests to the various venues featured on their wedding day.
Wedded Bliss
An increasing number of couples are including charter buses as part of their wedding day plans. When you provide transportation for your wedding party and your guests, it helps keep your busy day on schedule.
We deliver people where they need to be when they need to be there, whether it's getting people to the church on time, getting the wedding party to the place where photos will be taken, or making sure your guests arrive at the banquet hall safely and with plenty of time to enjoy themselves.
And in South Florida, we can also ensure your guests are cool, dry, and comfortable throughout the day, even when the heat and humidity don't always coincide with your wedding day plans.
FLBusCharter.com
You want to remember your wedding day as the most special day filled with love, not for all the things that went wrong. You can help ensure your wedding goes off a hitch by allowing FLBusCharter.com to take care of your wedding transportation.
Our drivers are experienced and knowledgeable. We've helped so many South Florida couples start their lives together with a wedding day that is not only safe and enjoyable but also on schedule.
When it's your big day, make sure everything goes according to plan. Let FLBusCharter.com handle all of your wedding day transportation so you can focus on what's truly important: Your love for one another.