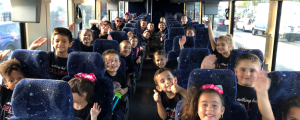 It's another school year and you know what that means: Fall field trip season is once again upon us.
Throughout South Florida, school administrators are making plans for their fall field trips — from trips to the farm for early education students to senior trips for next year's graduating class. In the coming months, there will be countless trips to zoos, museums, cultural centers, and even theme parks.
But while there are many destinations, field trips all have one thing in common: Students will arrive where they are going in buses. And the luckiest students will get there in luxury charter buses from FLBusCharter.com.
Fun and Educational Field Trips
The most memorable field trips are both fun and educational. Children are entertained while learning some useful knowledge. At the same time, they create lasting memories they can cherish for a lifetime. Don't you remember some of the best field trips from your student days?
The key to successful field trips is for everything to go according to plan. You don't want your class to remember your field trip for all the wrong reasons. That's why you should choose FLBusCharter.com to transport your class this fall field trip season.
FLBusCharter.com
Our team of experienced, professional charter bus drivers has been connecting students with new experiences for more than a decade. We will get your students to their field trip site in both comfort and luxury. And the journey will be as enjoyable as the destination.
Our buses feature state-of-the-art safety features as well as all the latest entertainment options, including free WiFi on every vehicle. Plus our drivers are friendly, helpful, and used to dealing with young passengers.
The time to start making plans for your fall and spring field trips is right now. Include FLBusCharters.com as part of your next field trip and guarantee your students will have a safe, enjoyable, and memorable experience.