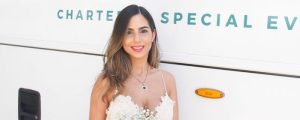 On your wedding day, you deserve to be treated like a princess. It's the one day in your life when all eyes will be on you and everyone is sending you their love and best wishes. You will wear a beautiful gown and get to kiss the handsome man of your dreams. It's like a fairy tale come to life.
So shouldn't your wedding day transportation be a luxurious carriage? At FLBusCharter.com, one of the fastest-growing business segments is wedding transportation as an increasing number of brides and grooms recognize that adding a luxury charter bus to their wedding day plans increases luxury, comfort, and safety.
Your wedding day is special. So the way you and your bridal party travel from your home to the church, from the church to the site for photos, from the photo site to the reception hall, and from the reception hall to the hotel should be special as well.
A luxury charter bus from FLBusCharter.com can bring luxury and style to your wedding day plans. But it also can add safety, efficiency, and comfort. When you leave the driving to us, we will make sure you not only get to the church on time but to everywhere else on your special day as well.
Our state-of-the-art luxury charter buses are worthy of your wedding day plans. They feature the latest safety features, maximum comfort and luxury, and even the best entertainment options. You're wedding day travel won't just be safe and on time, it will be fun as well!
On your wedding day, you are going to look pretty as a princess. Shouldn't you travel like royalty as well? Call FLBusCharter.com today and reserve your luxury charter bus so that we can serve you and be part of the celebration of your wedding day plans.