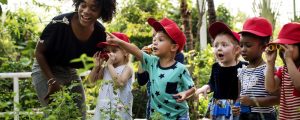 One of the best things about living in South Florida is our proximity to the state's famous theme parks. Walt Disney World, Universal  Studios, Sea World, and even Busch Gardens are just a bus ride away, making these places the ideal destination for group outings, including school field trips.
But the problem with Florida's theme parks is their popularity. During the busy season — which is basically all year round — the parks can attract thousands or even tens of thousands of visitors on any given day. The challenge for group outing organizers is keeping their charges safe while ensuring they have a great time.
Planning for Visits
There are a couple of things you can do to ensure everybody in your group stays safe while enjoying their day at the theme park. First, before you begin make sure you have a comprehensive list of everybody in your group, including their smartphone numbers and the phone numbers of their emergency contact. Keep this with you at all times.
It also may be helpful to take the time to create a group text chat that includes everybody on your roster. This makes it easier to send out instant messages that make organizing group actions — like departure times — a lot simpler.
At FLBusCharter.com, we can do our part in keeping your group safe by ensuring they arrive on time. We also will coordinate with group organizers to ensure nobody every gets accidentally left behind.
Our drivers are experienced at transporting groups of all ages to and from Florida's famous theme parks. So we can offer helpful advice and tips for keeping people safe throughout the journey.
Florida's theme parks are some of the world's most popular destinations for fun and excitement. At FLBusCharter.com, we can help ensure your group has the time of their lives while remaining safe and secure.