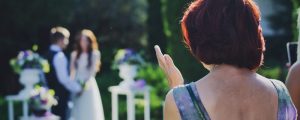 Your wedding day is one of the biggest days of your entire life. You will want to remember it for all the right reasons, not because of everything that went wrong. Yet there are so many "moving parts" during any wedding day that there's likely to be at least one unfortunate snafu that could overshadow all the other great memories you are creating.
Yet there's one simple and effective way to minimize the risk of anything going wrong on your wedding day while keeping the festivities running on schedule and simultaneously keeping everybody safe and enjoying themselves.
By adding a luxury charter bus from FLBusCharter.com to your wedding day plans, you can reduce the risk of delays while keeping your wedding party or even all of your guests on time for important elements like the ceremony, pictures, and the reception.
Wedding transportation has recently become one of the fastest-growing elements of most charter bus rental companies. As more and more couples begin to see the advantages of leaving the driving to a reliable and safe charter bus company like FLBusCharter.com, they are freed to enjoy their day without worrying about things like schedules or the safety and comfort of their guests.
At FLBusCharter.com, we have the elegant, comfortable, and luxurious charter buses you need to keep your wedding problem-free. Get to the church on time — as well as the photo location, the reception, and even the after-party– while being pampered and privileged in one of our spectacularly luxurious charter buses.
Congratulations on your upcoming nuptials. We genuinely wish you the best. You and your loved one are going to look back at your wedding day memories for the rest of your lives. When you add FLBusCharter.com to your wedding plans, those memories are more likely to be the best ones.