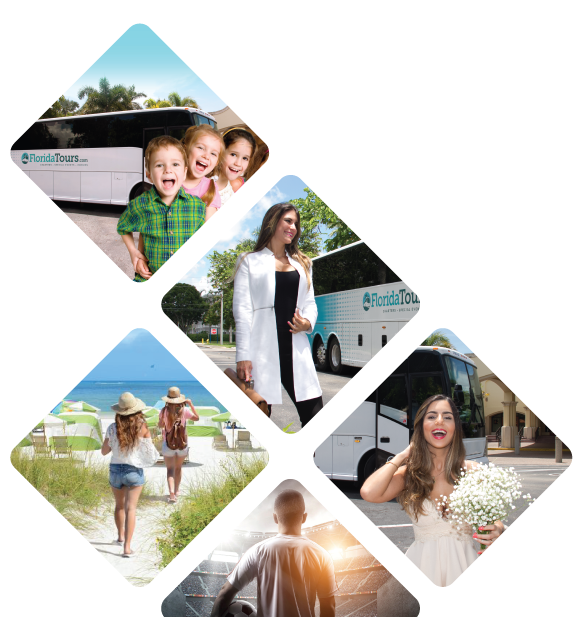 Premier Fort Lauderdale Bus Charter Company
Traveling with a group in Fort Lauderdale and region is easy, comfortable and stress-free when you book with FloridaTours.com. We've serviced Fort Lauderdale and the rest of the state with personalized services and charter bus rentals for a variety of group travel occasion, such as corporate events,  weddings, private group tours, sporting events, or rent a charter bus for school field trips. Guest Experience is our main focus.
Booking a charter bus in Fort Lauderdale starts with getting a personalized, free quote. Our rental experts are available 24/7 to help you book your Fort Lauderdale group transportation!
A Tailor-made experience: All your Fort Lauderdale Bus Charter Services needs in one place
Our attention to detail, top-notch quality and superior services is what elevates our bus charter in Fort Lauderdale above the rest.
We offer a modern fleet and our drivers have a 100% safety record and years of experience to ensure your group will have an incredible time.
FloridaTours.com is customer focused and solutions oriented. Our quote includes the vehicle, the driver, insurance and all running costs, allowing less stress and more time to plan your event.

Our services are friendly, professional and lead the industry for customer outcomes and satisfaction. By constanly listening to our customers we've built the foundation of our business.
Our luxury charter buses feature state-of-the-art technology as well as cutting-edge safety features. And they are operated by knowledgeable, experienced drivers who put customer service first. Unlike many of our competitors, when you choose FloridaTours.com you can always be sure that you will get a friendly and helpful driver who genuinely cares about the passenger experience — on every mile of the journey.
Our friendly team is waiting to assist you!

CORPORATE BUS CHARTER IN FORT LAUDERDALE
When most people think of luxury charter bus rentals in Fort Lauderdale, they typically associate them with transporting sports teams to away games, bringing students
The image of your business is just as important as the products and services that you offer. So anything that can derail that image, no
As the global pandemic fades into memory, many businesses are planning their next chapter. For some, that includes renovation or expansion of their corporate property.
SPORTS BUS CHARTER IN FORT LAUDERDALE
Winning a championship doesn't happen by luck. It's the result of a combination of factors that all add up to one goal: Being the best.
It's that time of year again: Wedding Season. If you are like most people, spring brings the arrival of warmer weather, migratory birds, and wedding
If you are planning on getting married soon, consider including wedding transportation as part of your celebration plans. Chartering a luxury tour bus to transport
group transportation experts
The ports in South Florida are among the busiest in the world for cruise lines. Docks in Miami, Fort Lauderdale, and other regional cities serve
Group travel can create unique challenges. One of the biggest is keeping your tour group entertained during a long bus ride. Even luxury tour bus
Coordinating a trip for a large group of people is no easy task. There are so many tiny details to consider. Then there are the
Taking a group outing on a luxury tour bus from FloridaTours.com is entertaining as well as educational. But it also is a social experience that
BUS CHARTER for SCHOOL FIELD TRIPS in FORT LAUDERDALE
Nothing is more precious than our children. So providing a safe and secure experience during school field trips isn't just desirable, it's essential. Here are
Most people would agree that keeping children safe is one of our most important responsibilities. So when students are moved from their home schools to
Education administrators are under a lot of pressure. Not only must they provide a thorough, comprehensive learning program for students, they also must achieve top-quality
Field trips are supposed to be fun. But they also should be educational. To make the most of your next class outing, follow these suggestions
Getting you where you want to be!
Experience our spacious, luxurious and comfortable  transportation with our premium Fort Lauderdale bus charters. Enjoy the ride while we drive you to your destination in the safety and ease of our top-of-the-line fleet.
FloridaTours.com is locally owned by Crane Gladding, a former cruise line executive.
"We began operations in the fall of 2015 with one employee and now employ over 80 full-time team members. We've grown steadily since welcoming our first passengers years ago and transported hundreds of thousands of guests," said Crane.
We provide a sophisticated ride for those high-end clients who want to transport their guests in luxury and style.
Our company works consistently to offer better quality and service for our guests, as their experience is our top priority.
We pride ourselves on putting their needs first with a personalized touch.