Need a Bus Charter in Fort Lauderdale? FLBusCharter.com Can Help!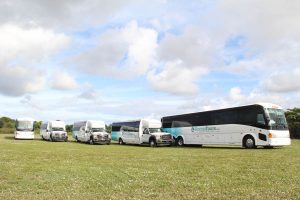 People organizing group outings for the first time often have to go through a learning curve. Even the simplest trip has many details that need to be worked out.
One of the biggest questions is how to get your group from one place to another safely, comfortably, and affordably?
The answer is simple. FLBusCharter.com provides the bus charter in Fort Lauderdale that your group needs regardless of the size of your group or its final destination.
Bus Charter in Fort Lauderdale — Experienced Professionals Who Care
When you are looking to hire a bus charter in Fort Lauderdale for the first time, there are three important considerations: Comfort, reliability, and price.
FLBusCharter.com offers all three. Our luxury motor coaches are among the best in the industry, offering all the latest comforts for groups of any size. Whether you are booking a trip for a dozen of your closest friends or hundreds of co-workers, we can accommodate groups of every size with comfortable, luxurious buses.
Bus Charter in Fort Lauderdale — Reliable and Safe
Your group will be treated like royalty as you travel to and from your destination. But you also can rely on FLBusCharter.com to be reliable and safe. Our drivers have one of the best on-time records among charter bus companies in South Florida.
Plus, our safety record is unparalleled. Our professional charter bus drivers are experienced, knowledgeable, and put the safety of you and your group as their top priority.
You also never have to worry about paying too much for your bus charter in Fort Lauderdale because FLBusCharter.com offers affordable, competitive pricing so your group can travel to wherever it's going in comfort and style while still staying within your budget.
For comfort, reliability, price, and safety, look no further for your bus charter in Fort Lauderdale than FLBusCharter.com.