Bus Charter in Fort Lauderdale: Getting to an Event Has Never Been Easier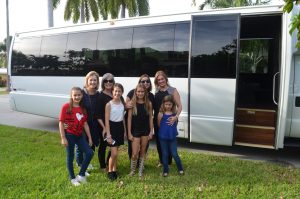 Arranging for a bus charter in Fort Lauderdale to an event is often the safest, most fun, and most affordable way to go. It allows you to arrive in style while enjoying the trip on the way there.
Safety First
Many people who travel to sporting events, concerts and other special events want to have a good time before, during and after the event.
When you leave the driving to a bus charter in Fort Lauderdale, you don't have to worry about having too much fun. We'll get you and your group to and from the event safely and securely, so all you have to worry about is enjoying yourself.
Fun Times for Everybody
Sharing the experience of attending a special event with your friends creates lifelong memories. Now you can extend the good times by riding to and from the event together in the comfort and security of charter bus.
The good times last longer when you are having fun with your friends on the way to and from the event. We'll make sure you get to where you are going in comfort and style, so you can keep the good times rolling longer.
The Most Affordable Option
If you haven't been to a professional sporting event, concert, or other special occasion lately, you may be surprised how much venues now charge for parking. In some instances, it can be upwards of $20, $30 or even $50 per vehicle. And you generally have no choice but to pay it.
Multiply that amount by the number of vehicles your group would take if you were to travel individually and you can see how much more affordable it is to charter a bus to your next event. The savings can be substantial — more than compensating for the cost of the charter.
Plus, charter buses often get to drop off and pick up their passengers closer to the entrance of the venue. And you don't have to wander around in the parking lot afterwards searching for your vehicle.